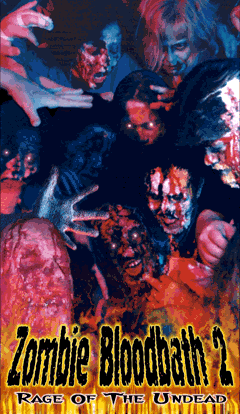 ZOMBIE BLOODBATH 2 - COLLECTOR'S EDITION
AVAILABLE SOON!

The digitally remastered director's cut presented for the first time with the original music and gore scenes intact. Also includes:
> Behind the scenes footage!
> Deleted Scenes restored!
> Interview with the director, Todd Sheets
> Original Trailer
> Bloopers

> News stories and TV promotions from all over the USA
Each tape is duplicated in SP speed with HI-FI Stereo sound on top-quality tapes and comes packaged in a deluxe clamshell case for true collectors of carnage.

Order Directly From Evil Arab Video by Clicking Here

If you don't want to place an order online, simply send in your request and the proper amount in credit card, check or money order to Evilarab Productions, P. O. Box 333, Olathe, KS 66051-0333. For the printable order form that you need to fill out and mail to us, click here.